History
1967
H.S.V. gets its start as a sole proprietorship, established by Etienne Cnudde.
1970
Hansbeeks Sneltransport PVBA is established, with its office in Hansbeke.
1988
Hansbeeks Snelvervoer NV is established.
1988
The company purchases and moves to its new offices and warehouses in Sint-Denijs-Westrem.
1994
H.S.V. Expedition NV is established.
2008
H.S.V acquires and relocates the company to its brand new offices and warehouses in Evergem (Port of Ghent).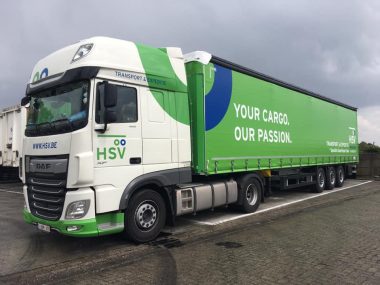 About us
Welcome to the H.S.V. site (Hansbeeks Snelvervoer NV – H.S.V. Expedition NV): H.S.V. stands for Freight Forwarding and Transport. H.S.V. guarantees first-rate service for all your transport and freight forwarding-related needs. Services include partial and full loads both to and from the following countries and regions: Spain, Portugal, Italy, Sweden, Norway and the Benelux. All H.S.V. trailers are equipped with coil cradles for the transport of up to 24 tonnes of (steel) coils. Our services also cover ADR transport for the guaranteed safe transport of hazardous materials. By moving the location of the H.S.V. office from Sint-Denijs-Westrem to Evergem in July 2008, H.S.V. sent a clear signal that it wished to solidify its presence in the Ghent Canal Zone.
Are you looking for temporary and/or long-term storage? If so, H.S.V. facilities can provide you with heated warehouse storage including 3,000 m2 of floor space. The outdoor storage covers an enclosed area of 5,000 m2.